IP PBX / PABX System Qatar / Telephone System Qatar
A PBX system in Qatar that connects telephone extensions to the Public Switched Telephone Network or Telephone line providers and allows internal communication for business. An IP PBX in Qatar work with network connectivity and provide communication by utilizing the TCP/IP network protocol stack. In business phone system, a PBX acts as the central switching system for phone calls within a business. The use of PBX is to provide shared access to limited resources. Such as a business having 2,5,10 or more lines from the service provider and the number of users in that organization is greater than the number of lines. In that case, a PBX [ IP PBX / PABX SYSTEM / TELEPHONE SYSTEMS] share the line to all the users. Instead of providing a separate line for all the users it will allow the users to share a small pool of lines.
When it comes to a PBX / PABX System, there are several advantages businesses can benefit. IVR, Voice Mail, Call Recording, Voice Mail to Email, Mobility Users, Call Queue, Conference call bridge, Telephone CRM Integration, and Remote office connectivity are some of it. With IVR and call queue you can handle more calls with minimum staff on board. With Voicemail, Voicemail to email and Mobility options your customers never miss you even you are not on the desk. Most of the advanced telephone systems support Conference call bridge, Telephone CRM Integration, and Remote office connectivity. These features in Office Telephone Systems provides higher business productivity.
PABX System Qatar – IP PBX Doha
Vector Qatar [VDS] Offer turnkey telephone system, PABX System, PBX Systems & IP PBX Systems from reputed Vendors. An excellent communication platform can be the backbone of your company. The right system ensures that all incoming and outgoing calls reach the right person. It also keeps its cool during busy times, grows with your business and provides technical features that enhance your phone system.
We deal with Avaya, NEC, Grandstream, Sangoma, Dlink, Snom, Yeastar PBX, Panasonic, Samsung, Digium, Snom, Fanvil, Cisco, Polycom, RTX, Htek, Yealink, Asterisk & Lg Ericsson. Our solutions include Unified Communication features like Voice Mail, Voice Mail to email, Instant Messaging, Fax handling capabilities, Mobility & Video call support. Selecting an expert company in Qatar to install IP PBX systems is critical. We are a specialist in Qatar. We offer our services almost every big city in the Doha. Our Sales, Support, and PBX Installation Service cover Qatar, Abu Dhabi, Sharjah, Ajman, Alain, Ras Al Khaimah, Umm Al Quwain, and Fujairah. So, do not waste your time hiring an unprofessional firm for your Telephone Installation. Call us today to get free consultation and quote.
When it comes to VoIP Phone Systems in Qatar, If the Business is Large or small, including SOHO, IP Telephone System can improve the business communications. In VoIP Phone System it's not about the convenience provided by using your Local Area Network [LAN]. It is about the business-friendly features VoIP Phone System can offer. With flexibility built in, this is the essential core to any advanced VoIP PBX setup.
What Is An IP PBX?
IP PBX System in Qatar uses the Data Network for sending and receiving Voice Packets.IP-PBX combines all office phones into one intelligent network, in which various voice services implemented. Moreover, an IP PBX System utilizes the existing data network infrastructure and reducing managing headaches and cost. IP Telephone System allows you to combine several geographically distributed offices into a single telephony system, to provide free telecommunications for the home and mobile workers.
The selection of the right communication system makes all the difference. With our extensive product portfolio of telephone systems and office phones, you can achieve the productivity and collaboration which innovate your organization and unlock the full potential. We deployed more than 1000 small to big telephony projects across Doha, the Middle East, and Africa region. We keep innovating the best communication tools for your business and team. We understand each business communication needs are different. Our Team of experts is here to listen to your needs and suggest the best product and solution for your telephone system. Your unique business needs are our specialty. We successfully finish business communication projects in Doha, Oman, Saudi Arabia, Kenya Bahrain, Iraq, Kenya, Nigeria, Tanzania, Ghana, Ethiopia, Algeria, Uganda, Sudan, Gabon, Seychelles, Chad, Djibouti, Congo, and Zambia.
Telephone Systems – For Business, Home and Education
VDS Technology offers Telephone Communication systems for different verticals in an effective but cost-effective way. Our Telecom Solutions are perfectly suited for Office telephone System, School Telephone Systems, Hotel Telephone Systems, and Home Telephone Systems. Whether you want an advanced IP Telephone System or Wireless Telephone System we have the solutions for you. Compared to business communications it is highly important for individual homes to have access to the best in mobile and telephone communication. We have seen the need for this and have decided to step in. We provide and install the best in home telephone systems.
Our office telephone systems are of a wide variety of sizes and extensions, as they vary depending on a few factors such as the number of users, whether it is wired or wireless telephone system, and your preferences. For offices that are actively looking for the most suitable, cost-effective and effective phone system in the market we variety of products to choose from. We are dedicated to providing the ideal telephone systems and other related solutions and services for businesses of all size. Our office telephone systems and services are of the very highest quality and while we tirelessly work with you in order to keep costs down and get the highest value for your money. We will also provide adequate support and technical assistance for you regarding the installation and maximal usage of the telephone system.
With our strong partnerships and relationships with technology giants in the business, we are guaranteed to be able to beat down prices to the barest minimum and still get you the best in office telephone systems and office phones. We are a full telecommunications service provider and are experienced in setting up phone systems and providing PABX installation and other related services. Let us help you pick the right phone systems for you.
Telephony Trends
The Enterprise IP PBX market is rapidly changing to keep pace with the rapid technological and business process changes going on in the typical enterprise. Does your organization now need IM embedded in its communications infrastructure, seamless wireless connectivity, integration with business applications, voicemail to email, or any of a dozen other new technologies? How do you tell which are the analytical techniques and solutions and find out which solutions offer the right blend of features, services, SLAs and price to meet your organizational needs?
---
What is PBX?
PBX stands for "Private Branch Exchange." A PBX phone system provides dial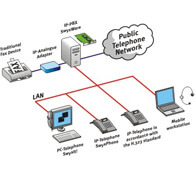 tone to multiple Telephones in your office using a fewer number of phone service lines. It is a "one-to-many" model, as opposed to having an individual service line, "one-to-one," for every phone. It works on the assumption that in any office there is only a percentage of phones used at any one time. Everyone shares service lines, and there are fewer service lines than phone handsets. Your advantage is simple, going with a PBX telephone system requires fewer phone service lines (channels, bandwidth) and that saves you money. The PBX phone system manages the whole process. A small business PBX phone system can effectively manage and handle all your calls at a much lower price.
---
PBX Phone Systems vs. VoIP Phone Systems
PBX phone systems are slowly losing market share to VoIP phone systems. VoIP phone systems allow you to connect to multiple network applications. VoIP phone systems allow you to integrate computers and mobile devices with your phone system. However, a PBX phone system in Doha is a great bargain and a reliable telephone system solution for your business.VDS Can help you choose the right solution for your business. Whether its a Small business or Large Organisation office telephone system we have got you covered. With the broadest product range in the Doha market, we can help you get your desired business communications.
---
PBX Phone System Prices and Our Offer
Many variables will affect your PBX phone system cost in Qatar. The
quality and number of handsets you need, calling patterns, and of course phone system features.  Whether you're buying a new PBX phone system in Qatar, need a PBX phone system upgrade in Qatar, service for an existing PBX phone system in Qatar or adding a new voice communication line, our experienced PBX phone system support team are ready to provide you free PBX phone system information and free PBX phone system price quotes.
Briefly, describe your PBX telephone system need, and we will quickly match you with multiple options and comparisons. We can get your job done!
Finding the cost of a new PBX telephone system in Qatar for your PBX phone system project, has never been easier! VDS Help you choose the right solution for your business. Our friendly and highly skilled support and installation team make sure you are getting the answer you expected. .VDS based in Qatar, Doha  highly qualified in basic to advance telephony solutions. We provide phone system supply and installation in Qatar.